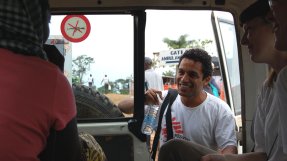 Each application is handled individually; the candidates who meet our basic requirements and fits with our operational needs at the time, are called for a recruitment process in Stockholm or online.
We only accept applications online, see the link further down the page. Please note we do not accept applications by e-mail.
If you are not a resident of Sweden or Finland you should apply through the MSF section in your country or region. Visit our international website to see all MSF offices.
Read this before applying
Please read through all the information available on the website under: Life on assignment, and please come to one of our information evenings if you live near a city where they are given. The information evenings in Stockholm takes place both in our head office (if possible at the time) and are screened digitally simultaneously. 
You can also view recorded information sessions in Swedish here and in Finnish here.
Find out as much as possible about humanitarian work in general and MSF specifically before applying. We think it is important that you are aware of our principles and values, as well as the type of humanitarian work MSF do.
In the application, you will need a lot of information that you may not have in your head. For that reason, you can save the application to continue later. Try to have the following information available when you fill in the application:
Time and dates of employment, training and trips. Salary-determination is based on the period of employment after the first year in the field. Therefore, we need to have the exact dates.
When you fill in the references, remember that only work-related references are of interest to us and it should be a person who has been your superior in professional life.
Attach a CV in English. Here you can download a resume template that suits you. There are two different templates you can make use of to create your CV: Europass CV and Simple CV template.
Enclose a motivation letter in English. Where we want you to describe why you are applying to MSF and why you want to do humanitarian work. 
After submitting the application you will get a confirmation that it has been sent. You will be contacted regarding potential further recruitment process. If you have not heard anything within 1 month, you are welcome to reach out to us.
By submitting the application, you also agree that we will register your data in our records and handle them in accordance with the EU's data protection law, GDPR. If you are recruited, your personal data is sent to various operational offices. If you are not recruited, we will save your data for up to two year for our statistics, after that it will be anonymised. 
Remember that if you are successful in the recruitment process, and you are recruited, it can take up to a year before you actually go on an assignment. This depends partly on what trainings you have to complete and partly because it may take some time before your competences can be matched with a suitable assignment.
We will confirm your legitimacy with the National Board of Health and IVO registry (applies to doctors, nurses, midwives, biomedical scientists and psychologists). 
Our required for a first assignment is up to 12 months. Please consider that carefully before applying. Exceptions are made for surgeons, gynecologists / obstetricians, anesthesia staff , who go on short assignments due to on call duties.
If you have questions, please contact us at recruitment@stockholm.msf.org 
If you are recruited
If accepted as international mobile staff, you will need to take a few courses to prepare you for your assignment. These courses apply only after you have been accepted. Read more about the preparation courses here.
You must provide copies of employment certificates, transcripts and licensing (applies to doctors, nurses and midwives). We will confirm your legitimacy with the National Board of Health and IVO's (Instititutionen for Health Care) registers.
As soon as you have been accepted you are required to share certain documents with us to finalize the administrative process.