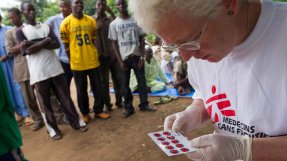 As a biomedical analyst with MSF you are responsible for organising all laboratory activities in a medical project.
Role description
The biomedical analyst role is varied, and you can do everything from screening tuberculosis in a hospital laboratory to testing people for sleeping sickness  (Human African Trypanosomiasis) in temporary clinics. In addition to being responsible for the laboratory activities in the projects, the duties also include training locally hired staff in sampling, analysis and quality assurance.
You will be the team leader for locally hired laboratory technicians and play a crucial role in analysing and evaluating the outcome of our work in the event of a serious outbreak for example. In many locations we run mobile clinics, where your role is to support the team to screen and test patients for various tropical deceases. 
Role requirements
In addition to the general requirements to work for MSF, you need:
Education as a biomedical analyst
Knowledge of tropical diseases
At least two years of professional experience working in a laboratory, preferable in a low-resource setting  and predominantly focusing on parasitology. 
Documented knowledge of sexually transmitted infections, virology, tuberculosis, malaria, hiv and aids. 
 
Desirable qualifications
French speaking
Knowledge of Spanish, Portuguese, Arabic and/or Russian
Experience of people management and/or activity management
Experience of providing training and/or coaching others
Previous humanitarian work experience
 
Your safety and security 
We take safety and security seriously. This video explains the risks our staff face and the lengths we go to keep them safe.
Please watch this before you decide whether or not to apply for this job.
 
Ready to apply?
Working for MSF is a commitment, rather than just an adventure or a job opportunity. Make sure you have read and understood the information on Life on assignment. 
We can only accept applications from Swedish and Finnish residents (Swedish/Finnish citizens and those eligible to work in Sweden or Finland).
Är du intresserad av uppdateringar från vår HR-avdelning?
Anmäl dig till vårt HR-nyhetsbrev!