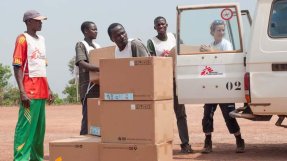 As a supply logistician you play an important role in ensuring the appropriate practical conditions for our activities  in crises and emergencies. 
MSF supply chain logisticians are responsible for all parts of the supply chain: international to local purchasing; order management; import and transport of material and goods. This is a key position, as our activities must never be delayed or stalled due to lack of material.  
We also recruit profiles with a specific focus on procurement and/or warehouse management. 
Role description
As supply logistician, you are responsible for everything related to material procurement: order management, local/international purchasing, inventory and monitoring, import and international/national transport as well as streamlining the flow of material and information . You are responsible for all supplies from construction materials and electrical products, to food and medical materials. 
The responsibility includes ensuring that our internal rules and processes are followed and to create strategies to meet demands that can arise with short notice. You need to work closely with all departments in the project to ensure we are on top of the order forecasting. The role also includes coaching and training of locally hired supply staff.
Supply logisticians usually work in one of our projects in the country. With increasing experience, you may also work as a part of the management team in a major city. 
 
Role requirements 
In addition to the general requirements to work for MSF, you need:
At least two years of relevant professional experience from order management, procurement, transport, warehousing and/or import and export. 
 
Desirable qualifications
French speaking
Knowledge in Spanish, Portuguese, Arabic and/or Russian
Education in supply chain management or other relevant education
Experience of people management and/or activity management
Experience of providing training and/or coaching others
Previous humanitarian work experience
Your safety and security 
We take safety and security seriously. This video explains the risks our staff face and the lengths we go to keep them safe.
Please watch this before you decide whether or not to apply for this job.
Ready to apply?
Working for MSF is a commitment, rather than just an adventure or a job opportunity. Make sure you have read and understood the information on Life on assignment. 
We can only accept applications from Swedish and Finnish residents (Swedish/Finnish citizens and those eligible to work in Sweden or Finland).
Är du intresserad av uppdateringar från vår HR-avdelning?
Anmäl dig till vårt HR-nyhetsbrev!