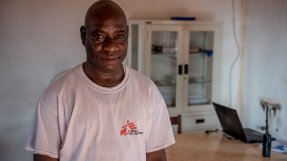 Finance managers in MSF projects have an important role in supporting the medical staff, as well as ensuring that the activities keep running from a financial standpoint.
As finance manager with MSF you will get the opportunity to work with finance from many different perspectives in a fast-changing environment that will test your abilities in new ways.
Role description finance manager
As finance manager your duties are varied. You work with accounting, reporting, financial planning and budget follow-up for the project. You often have people management responsibilities for locally hired staff, which includes training and coaching. You support the human resource responsible with administration around salaries, contracts and development of administrative procedures. You are responsible for reporting to local authorities and ensuring adherence to internal procedures as well as the national laws and regulations of the country.
Finance managers usually work in one of our projects in the country. With increasing experience, you may however also work as a part of the management team in a major city. 
Role requirements
In addition to the general requirements to work for MSF, you need:
Finance degree or equivalent
At least two years of professional experience from bookkeeping, budgeting, internal control, auditing or equivalent  

Desirable qualifications
French speaking
Knowledge of Spanish, Portuguese, Arabic and/or Russian
Experience of people management and/or activity management
Experience of providing training and/or coaching others
Previous humanitarian work experience
 
Your safety and security 
We take safety and security seriously. This video explains the risks our staff face and the lengths we go to keep them safe.
Please watch this before you decide whether or not to apply for this job.
Ready to apply?
Working for MSF is a commitment, rather than just an adventure or a job opportunity. Make sure you have read and understood the information on Life on assignment. 
We can only accept applications from Swedish and Finnish residents (Swedish/Finnish citizens and those eligible to work in Sweden or Finland).