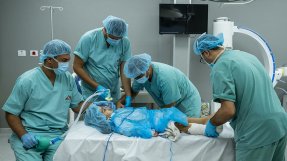 Aneasthetists are needed in projects with surgical or obstetric components, often with short notice for shorter assignments. 
Anaesthetists are a part of MSF surgical teams needed in precarious situations. These include armed conflicts or isolated areas where medical staff with that specialisation and competence is hard to find. 
Role description
As an anaesthetist with MSF you are responsible for coaching and training the locally hired anaesthetic team. You are also responsible for managing and following up on our procedures and protocol regarding anaesthesia and pain relief before, during and after surgery in collaboration with the medical team. You coordinate the anaesthetic activities in relation to the emergency room, operating theatre and related wards.
Role requirements 
In addition to the general requirements to work for MSF, you need:
Proof of specialisation
Medical doctor registration in Sweden or Finland 
Ability to work with limited technical resources
Available on short notice, for at least eight to twelve weeks 
Desirable qualifications
French and/or Arabic speaking
Experience of people management and/or activity management
Experience of delivering training and/or coaching others
Previous humanitarian work experience
Working with MSF
| Anaesthetist
Safety and security
We take your safety and security seriously. This video explains the risks our staff face and the lengths we go to keep them safe.
Please watch this before you decide whether or not to apply for this job.
Working with MSF
| Safety and security
Ready to apply?
Working for MSF is a commitment, rather than just an adventure or a job opportunity. Make sure you have read and understood the information in this section of the website.
We can only accept applications from Swedish and Finnish residents (Swedish/Finnish citizens and those eligible to work in Sweden or Finland).