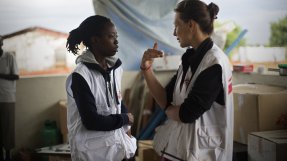 Working as a project coordinator with MSF includes coordination of all medical and logistical activities in a project. You are overall responsible for all staff as well as the safety and security. 
From conducting exploration missions to managing teams of hundreds of staff, MSF project coordinators plan, manage and develop our projects ensuring that all the departments work together to provide high quality care, whatever the needs.
The project coordinator role is challenging and includes a variety of responsibilities, therefore, we request previous professional experience with similar duties.
Role description project coordinator
The project coordinator has the overall responsibility for activities and personnel in the project and for ensuring that all departments work together to provide high quality care, whatever the needs . You are leading a large team and are also responsible for the safety and security of all staff and patients in our facilities. 
The project coordinator represents MSF and promotes our identity and principles   with local authorities, other organisations, donors, armed groups, media and the local community. You are responsible for ensuring that our technical, medical and ethical procedures are followed and that we reach our defined targets for the project. You analyse the political and humanitarian situation in the area. Together with your colleagues you identify health- and humanitarian needs within the population. 
An important part of the role is to negotiate with local actors and prepare risk analyses. You also prepare and follow up project planning, budget and evaluate the activities. As the project coordinator you are the final responsible for managing staff issues, which requires previous experience of people management, preferably with multicultural and multi-disciplinary teams.
Working with MSF
| Project coordinator Caroline Holmgren shares her experience
Role requirements
In addition to the general requirements to work for MSF, you need:
At least two years of professional experience from project coordination within the humanitarian sector.
Documented professional experience from managing security on the ground in complex security settings.
Experience of people management AND activity management
Experience from negotiation with external actors
 
Desirable qualifications
French speaking
Knowledge in Spanish, Portuguese, Arabic and/or Russian
Experience of providing training and/or coaching others

MSF Sweden recruit very few project coordinators therefore you should only apply if you fulfill all of the above mentioned requirements. Most project coordinators start in another role to gain experience and increased understanding of the organisation, the coordinator's responsibilities and the type of crises and contexts in which we work.
Your safety and security 
We take safety and security seriously. This video explains the risks our staff face and the lengths we go to keep them safe.
Please watch this before you decide whether or not to apply for this job.
Ready to apply?
Working for MSF is a commitment, rather than just an adventure or a job opportunity. Make sure you have read and understood the information on Life on assignment. 
We can only accept applications from Swedish and Finnish residents (Swedish/Finnish citizens and those eligible to work in Sweden or Finland).