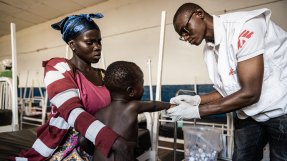 Children are often hit hardest by crises such as famine, epidemic and armed conflict. Therefore, a large portion of our patient population are children.
Paediatrician role description
As a paediatrician, your responsibilities include coaching and training of locally hired staff, planning and implementation of our medical programme, ordering drugs and medical material, conducting epidemiological studies, evaluation and reporting of the medical activities.  
In projects where MSF carries a large responsibility for medical health care of the local population, for instance in refugee camps, the work may be more hands-on. In projects where we support national health authorities and structures, the work may be clinical, but usually focuses on coaching and training of locally hired colleagues.   
Working with MSF
| Paediatrician
Role requirements
In addition to the basic requirements to work for MSF, you need:
Medical doctor degree
Medical doctor registration in Sweden or Finland 
Proof of specialisation, or initiated specialisation in paediatrics, with at least two years of working experience within paediatrics. 
At least two years of professional experience as a medical doctor, preferably in infection, paediatric or trauma care. 
Preparatory course in humanitarian health assistance.
Your safety and security
We take safety and security seriously. This video explains the risks our staff face and the lengths we go to keep them safe.
Please watch this before you decide whether or not to apply for this job.
Ready to apply?
Working for MSF is a commitment, rather than just an adventure or a job opportunity. Make sure you have read and understood the information on Life on assignment. 
We can only accept applications from Swedish and Finnish residents (Swedish/Finnish citizens and those eligible to work in Sweden or Finland).