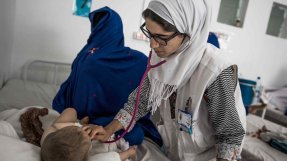 MSF medical doctors manage a variety of tasks from treating people living with different neglected tropical diseases to doing ward rounds for trauma patients in a hospital after armed conflict.
To work as a medical doctor in humanitarian crisis is rewarding and challenging. The core aspects of the role are planning, implementing and evaluating our medical programmes, as well as coaching of other medical personnel.
Medical Doctor role description
Locally hired medical doctors are the ones who provide most of the direct medical care and treatment to our patients. As an internationally recruited medical doctor, your main tasks are: coaching and training locally hired medical staff; planning and implementing medical programmes; ordering drugs and medical material; conducting epidemiological studies; evaluating and reporting medical activities.  In general, only a small portion of the work is direct clinical work. 
In projects where MSF carries a large responsibility for medical health care of the local population, for instance in refugee camps, the work may be more hands-on. In projects where we support national health authorities and structures, the work is less clinical.  
Work with MSF
| Medical Doctor
Role requirements
In addition to the basic requirements to work for Médecins Sans Frontières, you need:
Medical doctor degree
Medical doctor registration in Sweden or Finland 
Completed AT 
At least two years of professional experience as a medical doctor, preferably in infection, paediatric or trauma care. 
Preparatory course in humanitarian health assistance
Desirable qualifications
French speaking
Knowledge of Spanish, Portuguese, Arabic and/or Russian
Experience or studies in tropical medicine, infections deceases, Tuberculosis, hiv and aids or emergency medicine. 
Experience of people management and/or activity management
Experience of providing training and/or coaching others
Previous humanitarian work experience
 
Your safety and security 
We take safety and security seriously. This video explains the risks our staff face and the lengths we go to keep them safe.
Please watch this before you decide whether or not to apply for this job.
Ready to apply?
Working for MSF is a commitment, rather than just an adventure or a job opportunity. Make sure you have read and understood the information on Life on assignment. 
We can only accept applications from Swedish and Finnish residents (Swedish/Finnish citizens and those eligible to work in Sweden or Finland).