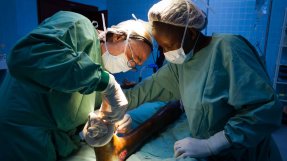 Surgical teams are needed in precarious situations such as armed conflicts or in isolated areas where medical staff with this specialisation and competence is hard to find. 
As a surgeon in our projects, you may face challenges that tests your experience and knowledge in a new way. Médecins Sans Frontières often work in hard to reach areas and in volatile contexts. Our surgical projects deliver standardised high quality health care.
Role description surgeon
The responsibilities of a surgeon are varied and can encompass trauma surgery, orthopaedic surgery, plastic surgery and/or other surgical tasks. You usually have a senior role in the surgical team and the responsibilities may include training and coaching of locally hired staff. You are, together with the medical team, responsible to ensure that surgical procedures and protocols are followed and that the care is working well before, during and after the surgery.
Requirements for surgeons
In addition to the general requirements to work for Médecins Sans Frontières, you need:
Proof of specialisation
Medical doctor registration in Sweden or Finland
Ability to work with limited technical resources
Available on short notice, for at least eight to twelve weeks 
 
Desirable qualifications 
French and/or Arabic speaking
Experience of people management and/or activity management
Experience of providing training and/or coaching others
 
Safety and security 
We take your safety and security seriously. This video explains the risks our staff face and the lengths we go to keep them safe.
Please watch this before you decide whether or not to apply for this job.
Ready to apply?
Working for MSF is a commitment, rather than just an adventure or a job opportunity. Make sure you have read and understood the information on Life on assignment. 
We can only accept applications from Swedish and Finnish residents (Swedish/Finnish citizens and those eligible to work in Sweden or Finland).