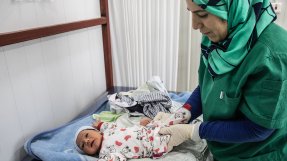 In many locations and contexts where we work women are particularly vulnerable. Therefore, women's health is an important part of our medical programmes.
Our medical programmes usually includes maternal health care such as care during childbirth, vaccination of pregnant women and children, information on hygiene, sexually transmitted infections, and family planning. We also offer support to people affected by sexual and gender based violence. 
To work as a midwife with Médecins Sans Frontières is a rewarding and fulfilling job, as the role is broad and includes a lot of responsibility including people management.
Midwife role discription
Our midwives often have a leading role in the daily collaboration with health authorities and locally hired midwives. Training and supervision of locally hired staff represent a large portion of the work. As a midwife, you can also expect a lot of clinical work.
Many of our projects are geared towards a population with hiv and aids. As a midwife, you often work with issues concerning pregnant women and these diseases. That means, among other things, informing/explaining, counselling and care of mother and child during childbirth. In many of our projects we also care for survivors  of sexual and gender based violence. 
As a midwife with Médecins Sans Frontières you work very independently and often manage a big number of births. It is therefore important that you are comfortable in your role and that you already have an extensive experience. 
Working with MSF
| Midwife
Midwife role requirements
In addition to the basic requirements to work for Médecins Sans Frontières (MSF), you need:
Midwife degree
Midwife registration in Sweden or Finland 
At least two years of professional experience as a midwife, predominantly focusing on deliveries. 

Desirable qualifications
French speaking
Knowledge in Spanish, Portuguese, Arabic and/or Russian
Work experience or studies in tropical medicine, sexually transmitted infections and hiv, family planning, Advanced Life Support in Obstetrics course (ALSO) or sexual and gender based violence.
Experience of people management and/or activity management
Experience of providing training and/or coaching others
Previous humanitarian work experience
Working with MSF - safety and security 
We take safety and security seriously. This video explains the risks our staff face and the lengths we go to keep them safe. Please watch this before you decide whether or not to apply for this job.
Ready to apply?
Working for MSF is a commitment, rather than just an adventure or a job opportunity. Make sure you have read and understood the information on Life on assignment. 
We can only accept applications from Swedish and Finnish residents (Swedish/Finnish citizens and those eligible to work in Sweden or Finland).